Lack of social care is piling pressure on surgeries and A&Es
Friday 3 March, 2017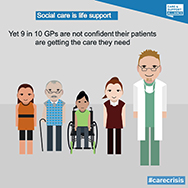 The Care & Support Alliance (CSA) – a coalition of more than 90 of the country's leading charities – recently published the results from their recent GP poll, which underpin their call for a properly funded care system.
Almost 9 out of 10 GPs (89%) think reductions in social care are leading to extra pressures in their surgeries. Even more (93%) think that the lack of social care is leading to extra pressure on A&Es and contributing to increased delayed discharges from hospital.
Ahead of next week's budget, the poll of over 1000 GPs reveals an overwhelming 92% of GPs think social care services are failing to give patients sufficient care. Currently at least 1.2 million older people and disabled people (1) do not receive the care they need, a 48% increase since 2010. When people don't get the basic care they need, they are more likely to fall into crisis and need more expensive medical attention.
Key findings include:
9 out 10 GPs (92%) are not confident that social care services currently provide a sufficient level of care for patients.
Almost 9 out 10 of GPs (89%) think reductions in social care have contributed to pressures in their surgeries and (93%) think this has led to increased pressures in A&E and contributed to an increase in delayed discharges from hospital.
GPs also think that things are going to get worse, with 8 out of 10 GPs (81%) thinking care services would worsen over the next two to three years.
Almost 9 out 10 GPs (88%) think that due to cuts to social care there is less care than just two years ago
Nearly 1 in 3 (31%) GPs thought that 1 – 5% of appointments could have been avoided if better social care was in place, another 30% thought 5 – 10%, and more than 1 in 10 (12%) thought as many as 21 – 30%.
Vicky McDermott, Chair of the Care and Support Alliance, said:
"Our social care system is letting people and their families down by denying them basic care such as help getting out of bed, getting out of the house or even having a fresh meal. More than a million people with difficult conditions are being denied the chance to live as well as they deserve.
"GPs are on the front line, a witness to what happens when you take basic care away from people – it damages their health and means they need more expensive care from the NHS.
"Philip Hammond needs to use the budget to invest in social care. The Government needs to address the crisis in social care, which is resulting in the NHS picking up the tab and people not getting the care they need."