Launch of the Annual Real Heroes Awards
Tuesday 22 September, 2020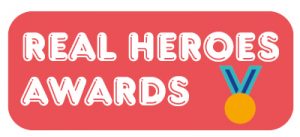 We are thrilled to announce the launch of the Annual Real Heroes Awards – nominations are now OPEN!
These Real Heroes Awards recognise and reward outstanding individuals across the organisation – both staff and the people we support.
These differ from the standard Real Heroes Awards in that we will be recognising specific categories of excellence for both staff and the people we support, which is a special opportunity to reward people's achievements and contributions. There is more prize vouchers up for grabs too – £50 for individual winners and £100 for teams.
Please send all your nominations for the following categories to Sam Goodwin (samantha.goodwin@reallifeoptions.org) by the end of this month. Printed versions can also be posted for my attention to the Knottingley address (contact details are included on the bottom of the nomination form. Plus every person who submits a Real Hero nomination automatically gets entered into a prize draw for the chance to win a £10 Love2Shop voucher themselves.
Real Hero Award Categories
STAFF:
Support Worker of the Year
Team Coordinator of the Year
Service Manager of the Year
Team of the Year
Business Support Hero of the Year
Living the Values Hero of the Year
PEOPLE WE SUPPORT:
Special Achievement Hero of the Year
My Voice Hero of the Year
My Choice Hero of the Year
My Community Hero of the Year
My Wellbeing Hero of the Year
You can use the attached nomination form, or alternatively an email directly to Sam Goodwin will also be fine. Remember to include details about why your nominee is a Real Hero and what difference they have made.
Please do share the attached poster with your staff in your service.
Deadline Date for Nominations: 30th September 2020
PRIZE DETAILS: £50 individual prize voucher / £100 team prize voucher, a Real Hero trophy, flowers and chocolates. Individual prize vouchers will be issued as Love2Shop vouchers. As the UK's leading multi-retailer gift voucher, these can be redeemed in over 20,000 stores, restaurants and attractions, with over 150 top brands. Team vouchers will be issued as specified by the winner so it can be put towards something that can be shared between team members. Every nominee will receive a Real Hero Nomination certificate.
Previous Real Hero nominations that have been received this year and fit the categories outlined above will also be considered.
Download the nomination here: Annual Real Hero Nomination Form – Real Life Options