Learning Leading Skills at Community Farm
Thursday 20 May, 2021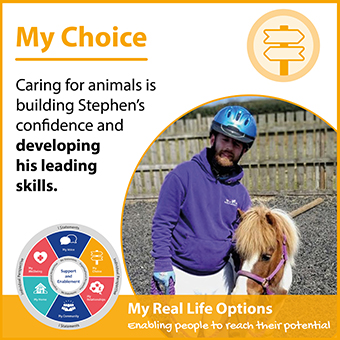 Congratulations to Stephen from Fraserburgh for achieving his Level 1 Certificate in Leading. Stephen earned this achievement through a placement at a local community farm where he helps take care of the animals. Stephen loves working with the horses at the farm and in particular, a Shetland Pony called Phoenix.
To achieve his certificate, Stephen learnt how to groom, feed and exercise the horses, and how to lead a horse around a pen. He was shown how to keep their stables clean and how to make a warm bed from straw. He's discovered what horses like to eat. They all enjoy oats and hay, sometimes apples and carrots and one pony likes bananas.
In addition to looking after the animals, Stephen has been taking care of the wheelbarrows at the farm – pumping tyres and greasing the wheels. To his delight, Stephen has recently been promoted to helping in the engineering shed where he can put his newfound maintenance skills to good use.
Stephen, who has grown in confidence throughout the year-long placement says, "It is good to learn something new."