Leila Moves In
Monday 6 February, 2023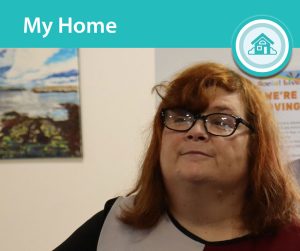 As the new year is in full swing, we are delighted to talk to Leila, who recently moved in to our new Supported Living Service in Swadlincote. 
Before moving into her new home, Leila lived on her own in a flat with minimal support but is now enjoying having more choice and independence, whilst being enabled to reach her full potential.
The high quality design specification of Leila's apartment means she has the space and tools to spend time learning valuable new skills. Leila says her favourite part about her new home is learning how to cook and she has enjoyed cooking new dishes including carrot cake and lasagne, saying she even "made some of her flat mates something to eat" when they didn't have time. With the encouragement of support staff, Leila is enjoying learning how to cook healthy food in bulk to support a healthy lifestyle.
Leila's love for cats and dogs is a huge passion, with Leila wanting to work with animals. Amanda Leary, (Registered Locality Manager in Derbyshire) is supporting Leila to achieve this aspiration by helping her to secure a role volunteering for the RSPCA. Leila says she is "excited to walk the dogs and play with cats". Giving the people we support more control over their lives and helping them achieve their full potential is at the heart of everything we do, and we are delighted to support Leila with her passion of working with animals.
Amanda says that Leila has "really found her feet" and has made friends with other tenants at the Swadlincote supported living service, enjoying games of bingo and monopoly, as well as enjoying scratch art and diamond painting in the communal area. Leila's new home has given her the independence to achieve her potential, with Amanda saying that "Leila has already gone from strength to strength". We are excited to support Leila and watch her achieve even more amazing things!