Loneliness Awareness Week
Tuesday 16 June, 2020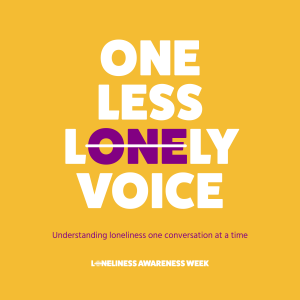 Understanding loneliness one conversation at a time
This week marks Loneliness Awareness Week, which exists to help raise awareness of loneliness and encourage people to talk about it freely and openly – after all, it's a normal human emotion. Hosted by the Marmalade Trust, the ultimate aim of the week is to empower everyone to understand loneliness one conversation at a time. By building on our understanding, we can help ourselves and others to manage feelings of loneliness and reach out to better support each other.
Now more than ever during COVID-19, it's important to be mindful of the fact that lots of people may be feeling lonely more than normal – be that our staff, family members, friends or the people we support. We are encouraging everyone across the organisation to take a moment this week to think about what they can do to help relieve someone else's loneliness (or indeed their own) and consider how to weave these actions into their normal routine for the future.
A wide range of ideas for practical actions you can take is collated below, but remember often the most powerful thing you can do for someone is simply to talk to them and listen to what they have to say.
Let's all join the conversation. #LonelinessAwarenessWeek #LetsTalkLoneliness
https://marmaladetrust.org/law/

Tackling Loneliness Ideas – At Home
Send a letter or postcard to someone isolating by themselves
Share your experiences of loneliness on social media
Arrange to watch a film at the same time as a friend and video call
Organise a regular video call with friends or family
Pick up the phone and call or text a friend
Arrange a video call with someone you haven't seen in a while
Start or join a virtual book club, film club or pub quiz
Meet someone for a socially distant walk – some people find talking while walking easier than face to face
Tackling Loneliness Ideas – In the Community
Start or join a WhatsApp or email group for your street. It's a great way to connect with your neighbours
Ask isolating neighbours if they need help with groceries or errands
Have a cuppa with a neighbour, keeping the appropriate distance
Reach out to a local charity and volunteer your support
Reach out to someone you know experiencing loneliness or isolation
Shop local, it can be a friendly place to say hello
Smile and say hello to passers by. Even from a distance it can make a big difference.
Tackling Loneliness Ideas – At Work
Host a regular (virtual?) social to catch up with colleagues
Encourage work colleagues to reach out if they are feeling lonely
Meet a colleague for a virtual coffee or lunch
Ask a colleague how they're finding the change in routine
Spend some time building stronger employee and team relationships by getting to know each other better
Talk to the people we support to increase understanding of their own feelings and what can be put in place to help combat loneliness
Tackling Loneliness Ideas – With Children
Read a book together about loneliness and/or talk about when or why people might feel lonely
Discuss what might help someone who is feeling lonely
Draw a picture of what loneliness feels like
Write letters to people who are isolating in the community
Remember to discuss loneliness openly and positively. Loneliness is a normal emotion and the stigma surrounding it tends to develop when we get older.