Making Memories Dawn's Way
Thursday 28 February, 2019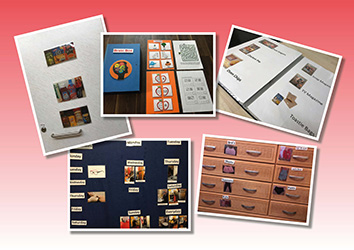 Supporting individuals to live their lives the way they choose and to have control over the choices they make, is at the very heart of what we do at Real Life Options. With her permission, we share Dawn's story, to provide insight and inspiration for people, and their support network, who may be in a similar situation. Real Life Options has been supporting Dawn from Redcar for over fifteen years. Dawn is very independent and very aware of her own life options despite being diagnosed with Dementia in 2016.
Team member Sarah Ryan has been supporting Dawn with a number of activities to help her manage the condition. They simplified her home and added images to cupboard doors so that she can easily locate her belongings. Dawn has a rota board that identifies photographs of each support staff, the day they'll visit and any appointments planned that week. To maintain Dawn's independence, they produced a shopping book, containing pictures of Dawn's favourite foods and details of where they can be bought.
Dawn is working with a Dementia Nurse who developed a personalised training course for Dawn's support staff and her mum. When this was explained to Dawn, she was keen to be included in the training too as, in her own words: "This is my life." It made perfect sense to Dawn to be involved in all aspect of her care, and more importantly be involved in any training so that she can explain how she feels and what she is experiencing. Dawn, with support from Sarah, is preparing a PowerPoint presentation entitled My Feelings and Memories, has booked the training room at Real Life Options regional office and will be instrumental in delivering dementia training focused on her situation and circumstances.
Dawn is aware that her life is changing yet with the support of Real Life Options and her Dementia nurse, Dawn continues to make choices in the way she lives her life.