Montana Home Care Joins Real Life Options
Monday 13 January, 2020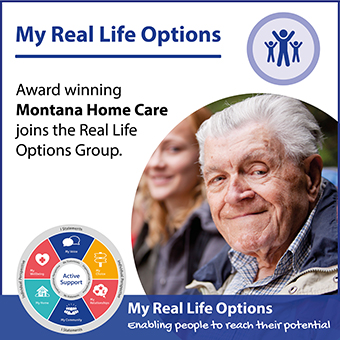 Real Life Options is pleased to announce that Falkirk based Montana Home Care is now part of the Real Life Options Group.
Montana Home Care is an award-winning care at home provider based in the central belt of Scotland. With around 60 permanent staff, the business offers a comprehensive range of personal care services to facilitate independent living for 160 people.
The company is well-established and highly regarded within its locality, gaining recognition through a number of awards including Care at Home Provider of the Year and Employer of the Year. The business has consistently achieved very good and more recently, excellent Care Inspectorate ratings in care and support.
Montana Home Care fits well with the organisation's ambition to expand care at home provision in Scotland. The main priority during the coming months will be to continue delivering excellent quality care at home services for clients old and new.