My Voice National Survey
Friday 11 June, 2021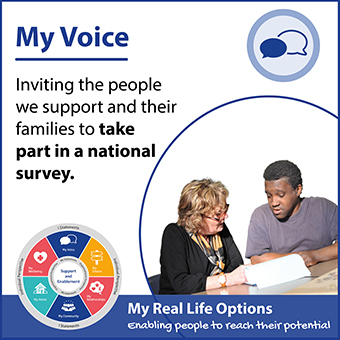 Real Life Options would like to invite the people we support and their families & guardians to get involved in a nationwide survey. We want to find out what you think about the support we provide, what we do well and what we could do better.
To thank you for taking part, we will hold a draw where 10 people have the chance to win a £10 voucher. You can also let us know if you would like to be involved in My Voice group meetings.
If you are a person we support, please click here to fill in the Asking the People We Support Survey.
If you prefer to fill in an Easy Read survey, you can download a form here and then return the completed form to your support staff or local Real Life Options service. If you would like to take part in the survey but would like some support to fill in the form, please speak to your Real Life Options support staff who will be happy to help.
If you are a family member or guardian of someone supported by Real Life Options, please click here to complete the Families and Guardians Survey.
The closing date to complete the survey is the 28th July 2021.
By completing this survey, you are helping us make a real difference to the lives of the people we support. Thank you.
Survey responses are uploaded into secure databases and will be used to help Real Life Options improve the way we provide support. Any personal details that you provide will only be used in connection with this survey and not passed on to a third party or used for any other purpose without your express permission.