My Voice – Supporting People 2022 Survey Results and Comparison
Tuesday 28 February, 2023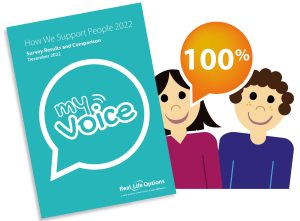 We are delighted to share the results of our latest My Voice survey How We Support People 2022.
The survey revisits questions taken from a survey of the same name launched over 18 months ago, to see how the thoughts, feelings and experiences of the people we support, and their families and guardians had changed over time.
It is the first time that we have taken this approach, the document displays the latest set of results and statistics from the 2022 survey alongside the responses from 2021. It illustrates interesting results which in most parts were very similar.
Although the survey response rate was lower than we had hoped there was an increase in the level of positivity and praise, particularly in the families and guardians survey.
The areas of strength for the 2022 Survey concluded that Real Life Options staff continue to provide attentive, person centred support, with the understanding that the people we support being fully involved is key.
Whilst three areas for development for the people we support were consistent across both surveys, result comparisons show there are some notable improvements.
Click below to read the full report:
My Voice – Supporting People 2022 Survey Results and Comparison
My Voice – Supporting People 2022 Survey Results and Comparison – Easy Read