My Voice Survey – My Home Results
Monday 24 July, 2023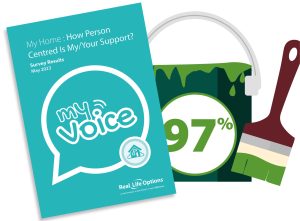 We are delighted to share the results of our latest My Voice Survey, My Home: How Person Centred Is My/Your Support.
We were grateful to receive surveys from 64 people we support, and 244 support staff.
Real Life Options believe that everyone should have the opportunity to use their own voice to make their own choices. Decisions surrounding our homes are some of the most important decisions we make and therefore we wanted to ask how well people felt supported when making decisions about their home.
The survey was created for both the people we support, and our staff teams, with the aim to gain a broader understanding of the support wanted against the support delivered.
A key area of strength concluded that the majority of people we support make their own decisions in and about their homes, with 97% of people we support saying they chose how to decorate their home. Despite the strengths, the survey found there is still opportunity to develop staff skills to support people with positive risk taking in a safe and planned way within their homes.
We are grateful to everyone who completed the My Voice survey. Feedback from the survey gives us guidance on what we do well, and what can be improved. As an organisation, we are constantly learning new ways to improve. We aim to develop person centred approaches and the insight provided through the My Voice surveys uncovers opportunities for us to explore to further encourage independence.
Click below to read the full report:
My Voice – My Home: How Person Centred is My/Your Support Results