My Voice Survey Results – About People I Know
Wednesday 27 July, 2022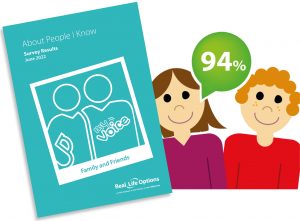 We are pleased to share with you the results of our latest My Voice Survey which focuses on the relationships between the people we support and their family and friends. The survey was created to give us a greater insight into how the people we support feel about meeting up with family and friends and how they socialise.
We are grateful to our support workers who aided 69 people we support to complete the survey to help communicate their thoughts and feelings around friendships.
We were extremely pleased with the responses and feedback provided around the inclusion of family, the promotion of choice and the ability to make (and break plans) if they so wished.
An area for further development is how we support people to maintain or enhance privacy of friendships. Further thoughts and consideration need to be had around supporting the people we support to make new friends and helping them to keep in touch with people that they don't see as often.
To read the full report click below:
My Voice Survey Results – About People I Know