National Art Competition!
Wednesday 8 January, 2020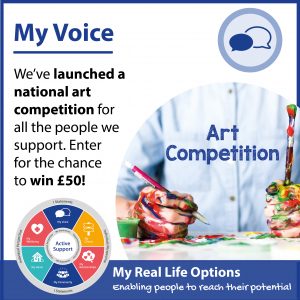 We have recently launched a national art competition for all the people we support across the UK. Everyone is invited to share their best art picture (painting, drawing or montages).
The winner will receive £50 and if they would like they have the option to have their artwork displayed in the Real Life Options office in Knottingley. There will be certificates of participation provided for everyone who enters.
The competition deadline is 9th February 2020. Send your entry (or a photo of your entry) to Sam Goodwin. Email: samantha.goodwin@reallifeoptions.org Post: Real Life Options, David Wandless House, A1 Business Park, Knottingley, WF11 0BU
We look forward to seeing all of your amazing artwork…