New Easy Read Breast Screening Guide now available
Friday 18 November, 2016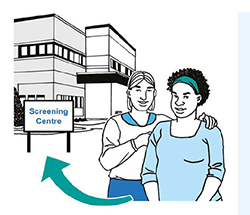 Research from NHS England has shown that people with learning disabilities are as likely to get cancer as the general population. However they are much less likely to access cancer screening services than people with learning disabilities.
The South Tees Improvement Group have recognised the importance of this issue – for example, uptake of attendance at Breast Screening appointments for females with a learning disability living in Middlesbrough is currently 36.8%. This figure is considerably lower than other areas across England – 39% for females with learning disabilities and 59.9% for the general population.
As a result an Easy Read Breast Screening Guide has been developed which can be used as a valuable tool to raise awareness of screening with the people we support. In turn this should hopefully increase the take up of Breast Screening appointments, not only for members of the learning disability community but for members of your staff.
Middlesbrough Council have also developed an informative YouTube video which aims to dispel myth and, encourage females with learning disabilities to attend Breast Screening appointments thereby reducing inequalities in Cancer Screening Services.
Click here to download the Easy Read Guide.
And head over to YouTube to watch the video and find out more: www.youtube.com/watch?v=fZNDHTSQfUk