New Supported Living Service Opens in Oxford
Friday 28 July, 2017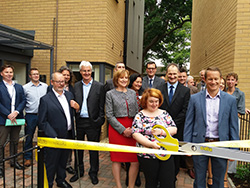 Real Life Options is thrilled to announce the official opening of Hope House; a new supported living service based in Oxford which will be managed by John Bacha. The occasion was marked with an open day on Monday 24th July and the ribbon was cut by the people supported at the flats.
Chief Executive David Sargent and Deputy Chief Executive Azra Kirkby represented Real Life Options at the event along with Area Manager Joanne Allen and Head of Business Development and Communications Anthea Sully.
Also in attendance were Anneliese Dodds MP for Oxford East, Councillor Lawrie Stratford and County Councillor Liz Brighouse, in addition to a number of representatives from Oxfordshire County Council, Oxford City Council and representatives from the other partner organisations involved in the scheme.
The project came about due to the need to find a replacement for the care home on Islip Road in Oxford which no longer met the needs of the people supported. Following extensive consultations with the residents and their family members it was agreed to relocate to the new service Hope House, which could offer more independence and security through a supported living set up.
The new service consists of 10 flats, accommodating 15 people in total. The flats are designed to accommodate a wide range of needs for people with learning disabilities and consequently it is flexible and spacious throughout.  It has a lift, wider doorways to accommodate wheelchairs and underfloor heating to provide a constant temperature.
Chief Executive David Sargent said: "We are really excited to be the support provider for this project and to be working in close partnership with Oxfordshire County Council and other local organisations. Real Life Options has had an established presence in Oxford for over 10 years and our local expertise is backed up by a national structure across the UK. We have an excellent track record of establishing new services and recruiting committed staff teams; in fact in our recent staff survey 100% of our staff in Oxford said they felt that the work they do gives them a sense of personal achievement."
"I would like to take this opportunity to extend a warm welcome all the new Hope House residents who are now supported by Real Life Options and to all the new staff members who have come on board."
A number of partners were involved in the delivery of this project: both Oxford City and Oxford County Councils, Advance the housing provider, EG Carter the main contractors, Technical consultants Quattro (architects), Philip Banks (Employer's Agents), Sovereign HA and the HCA (grant funding).