New Year, New Hobby Competition Launched
Tuesday 19 January, 2021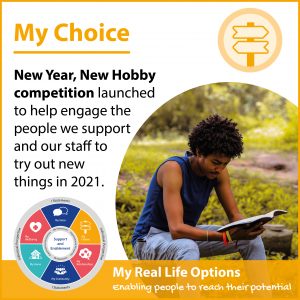 The start of a new year brings with it the opportunity and enthusiasm to try something a little different in 2021. Plus, trying your hand at a new hobby is not only fun and rewarding, but there are tons of mental health benefits associated with having hobbies too.*
For example, many people find that working on their hobbies helps them to:
1. Regain a sense of control (more important than ever as we continue to live in a pandemic when so much is beyond our control which can be frustrating at times).
2. Feel accomplished (progressing with a hobby can be hugely rewarding and help us to feel like we have achieved something meaningful).
3. Find purpose and meaning (we naturally gravitate towards hobbies that we enjoy and spending more time doing things we love can only ever be a good thing!)
So, the Real Life Options Group has launched a brand new competition to encourage all of our people we support and staff to share about a new hobby that they have started (or plan to start) in 2021 (or indeed continue from last year). The idea is to help inspire each other (especially when enthusiasm may be waning in lockdown) and celebrate all the great things people are trying out to spur on everyone to keep going.
It couldn't be easier to enter the competition:
• Simply describe your new hobby in a brief email to Sam on samantha.goodwin@reallifeoptions.org
• Open to people we support and staff – so for people we support please include which service they are based at in your comment/email.
• Everyone who enters will be automatically entered into a prize draw for a chance to win a £50 Love2Shop voucher.
• Competition deadline is 28th February 2021 and the 2 winners (staff member and person we support) will be announced in early March.
• Click here to download a poster that can be used in services with the people we support
*Source: Alissa Lastres, '3 Mental Health Benefits of Pursuing a Hobby', www.lifehack.org