Creating Reality
Wednesday 8 January, 2014
People we support in the East Midlands have come together with staff to create an inspirational model village. It has been designed to help familiarise people with real places and situations to reduce any anxiety or worry in an imaginative way.
What is the model village?
The project is called 'Our Community', it is a hands on interactive experience for people to have interactive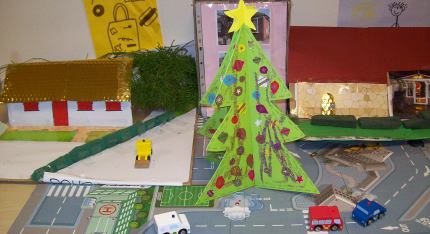 information in ways suited to them. Long term ambitions for 'Our Community' include using it in reviews to enable people to make the best choices for themselves.
How it came about
From time to time ad hoc group sessions for charity events or parties were organised, where people met friends old and new to socialise. People chose their own activities from bingo to first aid training and music to artwork.
Other activities in the Wednesday group
Some Wednesday groups have a specific subject to discuss, these have included choosing staff through
specific exercises such as 'Good Support Worker/Bad Support Worker' and interviewing.
Other specific bi-monthly groups have since developed including 'Life' and 'Communication'. Alongside this, some staff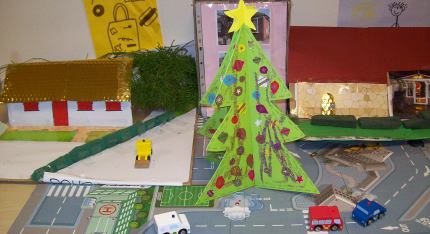 have been trained to tell 'Bag Stories', this is where stories are told in an interactive way, including objects and sounds. These are now being developed further to explain specific subjects, for example, going to the doctors.
The benefits of 'Our Community'
Creating models is a great way for people to express themselves, work to create something beautiful as a team, and to explore concerns of day to day life.
The future of the 'Our Community'
The potential for the model village is vast and continues to expand as more people get involved and add their mark. Christmas decorations have been added to mark the season. The only concern for Jane Jones, Service Manager is having to get a bigger office to house to evolving creation!