Pictures of cats
Saturday 25 April, 2015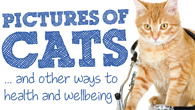 It's a well known fact (oh yes it is) that looking at pictures of animals online can help to reduce stress levels – apparently it releases small doses of a naturally produced hormone that keep us mentally and physically well. This helps to explain why so many people like looking at pictures of cats on the internet!
So, with all of that in mind: Pictures of Cats and other ways to health and wellbeing became the first of ARC England's 2015 conferences, in partnership with Real Life Options. The conferences aim to raise awareness of the Care Act – its impacts on social care providers and the people they support.
The event, held on the 21st April, at the Chesterfield Assembly Rooms, hosted over 60 delegates from ARC member organisations around the country. The day was chaired with great skill and humour by Adam Chilcott, a Health Checker and Volunteer at Derbyshire Healthcare Fooundation Trust. Adam was ably assisted by Anthea Sully, wearing both of her hats as Chief Executive of ARC and Head of Policy at Real Life Options.
Delegates were presented with insights into the health and wellbeing challenges experienced by many people with learning difficulties and what's being done to tackle those challenges.
Pauline Heslop, who is the Confidential Enquiry Team Leader at CIPOLD, told us there is evidence of greater incidents of illness and premature death amongst people with a learning disability. Pauline spoke about the action required to ensure people with learning disabilities have the same access to medical services as everyone else, have regular health check-ups and better monitoring of health issues from the services that support them.
Jackie Fleeman of Derbyshire Healthcare Foundation, told us that obesity is often at higher levels in people with a learning disability, which can present a number of health issues; including heart disease, diabetes and breathing problems. Jackie introduced 'The 12-month Challenge' – a workbook, used in conjunction with GP practices, to help people with learning disabilities learn and understand more about healthy eating, exercise and the importance of managing weight.
Other speakers tackled issues around improving the mental health of people with learning disabilities, the value of personal budgets to people's health and wellbeing and how innovative language and communication software, like MyChoice Pad, has been used to ensure that people with learning difficulties are better heard and understood, resulting in positive and far reaching health and wellbeing outcomes.
The conference was about participation too – delegates took part in a challenge to communicate difficult concepts without speaking (and it was difficult) and shortly after lunch, everyone was enlivened by 10 minutes of vigorous chair exercises – so vigorous that many were still feeling the 'positive' effects the next day. See evidence of the chair exercises in the picture top right!
Dave Allen, a Service Manager at RLO, summed it up perfectly, saying: "I've had a great day. My thighs are aching after the chair exercises, but I'm coming away with a number of ideas I know will make a difference to the people we support in the North East."
The full list of speakers is detailed below:
Pauline Heslop, Confidential Inquiry Team Manager, CIPOLD – Confidential Inquiry into Premature Death of People with Learning Disabilities
Sue Turner – Health charter for social care providers (NDTi )
Christine Burke – Feeling Down: looking after my mental health (Foundation for People with Learning Disabilities)
Tanya Nolan – Enter and View (Healthwatch Derbyshire)
Jackie Fleeman – Health Action Planning (Derbyshire Healthcare Foundation Trust)
Tamara Bishop – Personal Health Budgets (HomeCare Direct)
Insane Logic – providing solutions for those who support people with communication difficulties
For more information and access to conference papers, please go to ARC's website at www.arcuk.org.uk. You can also find out more about ARC's next conference on May 14th in Sheffield: The Keys to the Door – meeting the housing needs of people with learning disabilities.