Race for Life
Tuesday 4 August, 2015
Emma, a person supported by Real Life Options in Hartlepool and Senior Support Worker Veronica were two of the 1,000 Pink Ladies who took part in July's Race for Life in Hartlepool to raise money for research into all cancers. Many ran in memory of loved ones or to celebrate the lives of those who have beaten the disease.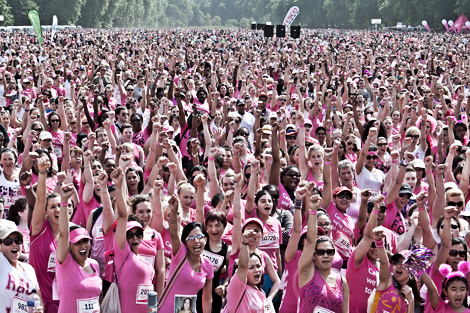 Both Emma and Veronica are seasoned campaigners and have taken part in Race for Life many times before, but this was the first time they have run together.
Veronica helped to push Emma round the 5k course, finishing in the fantastic time of 1 hour and 10 minutes. Together they raised £102 for Cancer Research from family, friends and other sponsors
Hartlepool's Race for Life, which took place along Seaton Reach in Coronation Drive, Seaton Carew raised over £90,000 in total.
Emma said: "Both me and Veronica want to thank everyone that sponsored us. We've raced it before and it's a really great event to be a part of." Asked if she'd be back next year, Emma said: "You try stopping me!"
It