Racing Ahead for Birthday Treat
Friday 1 February, 2019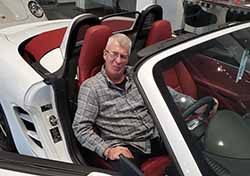 Belated Birthday wishes to Les from Teesside, from all of us at Real Life Options. There are not many people who get to celebrate in style, with a ride at a race track in a luxury car.
Les is passionate about cars and loves visiting showrooms and checking out the latest models. When asked how he would like to celebrate his birthday, Les jumped at the chance to visit a race track for a racing car experience.
Les, together with Real Life Options Service Manager Leigh McCusker travelled to Elvington, a former airfield on the outskirts of York. After a bite to eat, they joined other spectators, watching as a Ferrari, Lotus and Aston Martin whizzed by.
Initially, Les was apprehensive because of the noise and speed of the cars, but once his turn arrived, he climbed in without hesitation and enjoyed his high-speed passenger experience over three laps in a Porche 911.
"I loved it", said Les. "I never thought I would get to ride in a car like that."
Les is already planning ahead and has his sights set on a ride in a Ferrari to celebrate his next birthday.