World Autism Awareness 2019
Monday 1 April, 2019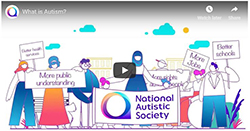 This week (1 – 7th April) Real Life Options joins other organisations across the UK and around the world in talking about and raising awareness of Autism. Autism is a lifelong spectrum condition that affects how people perceive the world and how they interact with others, with many feeling that being autistic is a fundamental aspect of their own identity, their uniqueness.
An estimated 700,000 people (that's 1 in 100) in the UK live with autism and without the right support, it can have a profound – and sometimes devastating – effect on individuals and their families. While some people may need a lifetime of specialist support, others can and do live independent lives.
The National Autistic Society has produced this video to help improve an understanding of Autism.