Raising money for Real Life Options just got a whole lot easier
Friday 15 January, 2016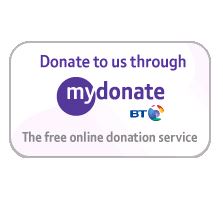 Did you know you can now easily fundraise online and offline to help the people we support?
As a national charity there are lots of easy and fun ways you can fundraise to contribute to the valuable work we do across the UK. We are now officially registered on MyDonate (mydonate.bt.com), an online fundraising platform so you can easily raise money online. It's a simple, quick and efficient way of fundraising so that your family and friends can sponsor you at any time from any place – which saves you time collecting money.
All the money raised goes directly to Real Life Options to contribute towards working with the people we support. Plus if your sponsors are UK taxpayers we can also automatically claim an extra 25% in Gift Aid from the tax man on every donation at no extra cost to you. That means that a £10 donation can become £12.50. This can make an enormous difference so please make sure any UK taxpayers tick to include Gift Aid.
You can make the most of your online sponsorship page by including photos and explaining why you are raising money for Real Life Options. You can also share your page on Facebook and Twitter and email it to your family and friends so they can easily donate. Simply head on over to mydonate.bt.com to get started.
Every single donation, no matter how big or small, really does make a difference to the lives of the amazing people we support, with the money contributing to the work of the charity which includes special projects to develop their skills and enhance their social wellbeing.
Make a one-off donation
If you would like to pay in a one-off donation you can either donate online at https://mydonate.bt.com/charities/reallifeoptions or alternatively you can send a cheque along with a completed Gift Aid Declaration form to the address listed above.
Got a question?
Our Fundraising team will be happy to help you. Simply email donate@reallifeoptions.org, call us on 01977 781800 or write to Donate, Real Life Options, David Wandless House, A1 Business Park, Knottingley Road, Knottingley, WF11 0BU