Ready, Steady, Bake!
Wednesday 15 March, 2017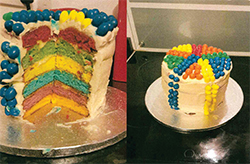 Move over Mary Berry, a whole load of talented bakers from across the organisation have been busy baking tasty treats. Some offices and services even hosted their very own Great Real Life Options Bake Off contests which saw people from across the organisation don their aprons and put their baking skills to the test, resulting in a glorious assortment of cakes, buns and biscuits. Plus a huge £155 was raised for Macmillan Cancer Support in the process.
Delicious entries poured in for the recent Real News baking competition with loads of great cakes and buns on offer. After much deliberation Joanne, a person we support from Rodger Lane in Leeds, was awarded the Star Baker prize for her showstopping Rainbow cake. Helen, a person we support from Newcastle, got second place for her beautiful Flower cake and Marilyn Lumb, a Support Worker from Leeds got third place for her awesome Lego cake.
Did you know that whipping up treats in the kitchen can do more than just create yummy comfort food? They say that baking soothes the soul and in fact there are a number of benefits to baking which can help ease depression and anxiety. Former Great British Bake-off winner John Whaite has said that baking helps lift his depression as it is a way of channelling any negative energy into creating something positive.
So perhaps now's the time to dust off your apron and get baking!