Real Hero Local Award Winners Announced!
Thursday 30 June, 2016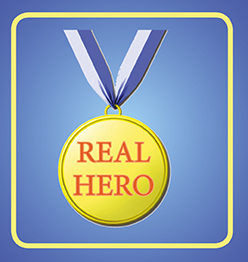 Every year Real Life Options takes great joy in celebrating the amazing, inspirational people who have been making a difference across the charity.
We take great pride in all our staff and all of them are stars in their own right. But the Real Heroes Awards recognise the outstanding individuals and groups who have, by their actions, gone the extra mile and demonstrated that they share similiar beliefs and values to Real Life Options and have helped to make a significant difference in improving the quality of the life for the people we support.
The awards acknowledge their humanity, their contribution to the local community and their willingness to go above and beyond to best accommodate the individual needs of the people we support.
Congratulations to all our winners, runners up and all our nominees.
Download our PDF to find out more about the winner's great stories or check out the summaries below.
HEAD OFFICE
Winner: Mario Caswell
Managed the whole of the budget preparation by himself, covering for his colleague on maternity
leave. Delayed his exams to meet work commitments and never missed a deadline. Has prepared
board papers and budget presentations that far exceed expectations and reduced workload.
Runner Up: Anthea Sully 
Going above and beyond to help others in the organisation by going the extra mile to contribute to various projects. She always remains a constant source of enthusiasm and inspiration, never letting any personal challenges get in the way of her happy disposition.
NORTH EAST ENGLAND
Winner: Beverley Cave, Janet Grylls, Sue Linsley and Margret Oliver
Local darts team who invited people we support to join the team and compete together equally in the league. They are very understanding always act with dignity and respect and have been really inclusive, enabling the two supported ladies feeling relaxed and welcome.

Runner: Lisa Livingstone and Lindsey Edgell
Have both been working above and beyond their station, completing work to a very high standard on behalf of managers across the area and ensuring that support plans and tools are all completed comprehensively.
NORTH EAST & YORKSHIRE
Winners:  Michelle Corner, Rachel Watson, Claire Gibson, Annette Peirson, Jude Hogan and Diane Chapman
Went out of their way and put in their own time to help organise a big 40th birthday party for a lady we support, complete with a disco and face painting and lots of food that they made themselves.
Runner Up: Donna Monghan
For taking an exemplary approach to organising new community activities for the people we support, including incorporating iPads and story boards. She helps to enrich the lives of the people we support, increases their confidence and has a great attention to detail.
BIRMINGHAM, MID AND SOUTH
Winner: Dawn Long
A highly respected, extremely hardworking team member she has worked diligently to help ensure a happy, effective team during times of change and efficiently ensured that all paperwork was in order to enable the people we support to meet their goals and lead fulfilling lives. She also personally helped a colleague cope during a time of grievance proving to be a pillar of support.
Runner Up: Coventry Team
For consistently going above and beyond the call of duty and providing an exceptional level of care and support. The whole team fully embody the values associated with Real Life Options and go out of their way to ensure the needs of the people we support are always prioritised first above everything.
CENTRAL SCOTLAND
Winner: George Fidoe
Served as a loyal, long-standing member of the Glenrothes outreach team for over a decade until the reoccurrence of a brain tumour. He has since returned as a volunteer and was pivotal in re-launching and chairing the Fife's Service User Forum. He puts their needs at the forefront of everything and has enabled people to grown in confidence and speak up in the forum.

Runner Up: Julie Strachan
An exceptional Support Worker who has greatly contributed to the lives of the people we support over the past 16 years, always treating people with respect and dignity helping them to progress. Recently due to a medical decision Julie has had to retire and she will be greatly missed by everyone at all her services.
NORTH EAST SCOTLAND
Winner: Portlethen Team
When recently they were over half a staff team down over 3-4 months during the winter period, everyone was absolutely amazing and rallied together to ensure that the level of support remained outstanding and that no people we support were affected by the changes. Their steadfast commitment has been exceptional.

Runner Up: Kimberley Logie
Absolutely stepped up when for a period of 3-4 months there was no Service Manager in her service and then went onto be a very valuable member of the team to show the new Manager the ropes once in place. She always went above and beyond to share her knowledge even though she was due to shortly go on maternity leave.
WEST SCOTLAND
Winner: David McLean
A very compassionate and considerate individual who has gone above the call of duty supporting a person we support with health problems in hospital. He went out of this way to keep the family informed and showed extreme compassion, visiting the hospital in his own time and acting as an advocate to provide the man with a voice.

Runner Up: DJ Robert
A local DJ/entertainer who keeps everyone entertained and smiling and joins in with the people we support at discos, karaoke nights and game nights. People we support says Robert "plays good music, makes us laugh, is always there every week and never lets us down!"
MID SCOTLAND
Winner: Christine Bell
Christine has 17 years experience of working in the same service and is very supportive to the staff team and well liked by everyone. She is reliable, committed, never complains and has never has a day off sick! She has dealt with recent structure changes that affected her role very professionally and helps support with paperwork.
Runner Up: John Thompson
An exceptional driver/escort who always goes out of his way to include the people we support and make their journeys enjoyable. He is always smiling, is very approachable and loves making conversation with his passengers. He is a particular favourite of Scott, a person we support, who always arrives smiling and laughing when he sees John.
1ST HOMECARE
Winner: Sheena Bell
An exemplary support worker who always inspires others and cheers them up. Always reliable and punctual she carries out all her work in an effective, caring manner providing an outstanding quality of care. Has dealt with a recent breast cancer diagnosis with great humility and strength, always remaining cheerful and inspiring others.
Runner Up: Linda Donohow
Went out of her way to provide a new service user with furniture and belongings when he joined RLO with nothing but the clothes on his back. She brought items from her own home, hunted round charity shops and even sourced furniture from friends. She went the extra mile to make him feel valuable and wanted as a person.