Real Heroes Annual Conference 2020
Monday 21 December, 2020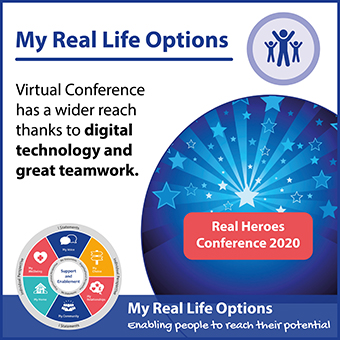 Despite the challenges presented by the COVID-19 pandemic, we are delighted that our annual conference went ahead this year, albeit as a virtual event.
It was fantastic to see so many staff and people we support from across the Real Life Options Group watching the streamed event live from the comfort of their own homes. Links to each of the sessions have been shared for those colleagues who could not be present on the day.
This year's conference themes focussed on building confidence, capability and celebrating success. Directors of Operations Jean Trench and Vivien Simon provided an update on the excellent progress made against their operational roadmaps for success over the last twelve months.
Attendees were thrilled to hear about developments with the digital support plan roll out, progress with our best-in-class support and enablement programme and how well the Employee Journey model is being embedded across the Group.
The Leadership Team shared their mission to increase investment in community projects, empower the next generation of leaders through the ASCEND development programme and focus on long term business sustainability to meet the needs of the people we support.
The conference culminated in an exciting digital Real Heroes Awards ceremony incorporating the people we support as star presenters, celebrating the achievements of nominees and finalists from across our Group.
Chief Executive David Sargent concluded the day with the launch of a Commemorative Learning Fund in memory of those individuals who are no longer with us but very much in our thoughts.
"This last year has been one highlighted by acts of heroism and sacrificial giving. Our staff have demonstrated much resilience and strength during this time, resulting in excellent care for the people we support. We did not allow the pandemic to halt progress. Instead we have used this opportunity to improve how we work together in achieving our goals." David Sargent.