Real Life Options Hits The Road
Wednesday 16 October, 2019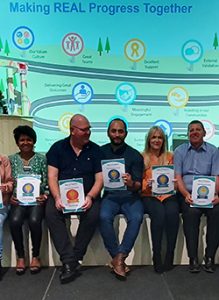 Over 140 employees from across the Real Life Options Group came together in the first week of October to be inspired at our national roadshow conferences themed around 'Making Real Progress Together'.
Helmed by the Leadership Team, the roadshows in Leeds and Glasgow provided the ideal opportunity to empower and enthuse operational staff teams from across the UK and lay the foundations for real collaborative work across the organisation.
Following a powerful opening from Directors of Operations Vivien Simon (England) and Jean Trench (Scotland) which outlined our roadmap to achieving 'best-in-class' operational excellence, attendees learnt about an exciting new community investment fund initiative and the organisation's volunteer strategy. 
Colleagues heard a business update from Ian Hardcastle, Chief Operating Officer, which included welcome news that our pioneering ASCEND leadership programme is being rolled out to Team Coordinators.
Our innovative new model of support was officially launched at the roadshows which was very well received by staff and a memorable Only Fools and Horses sketch heralded the introduction of the digital support plans.
Attendees were also treated to an Ask the Leadership Q&A session, the Team Awesome Awards which recognised outstanding contributions from staff across the UK and interactive market stall sessions which offered the chance to talk directly with representatives from key business support functions, including HR, Finance, Marketing and Communications, IT and Facilities.
"Everything we do is about people – the people we support and our staff," said David Sargent, Chief Executive. "The roadshows were a fantastic way to really praise and reinvigorate our courageous staff teams so they feel empowered to help shape the direction of the organisation. We're all really excited about what the future holds."