Real News Issue 104
Monday 9 December, 2019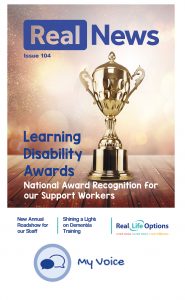 We are delighted to announce the launch of our new Real News magazine, which will now be produced with an EasyRead summary on every page in order to make it a lot more accessible for people with learning disabilities.
Going forward Real News will be circulated as a digital copy only which will be shared online via our website and social media, with the option of printing off the PDF if a paper copy is required. This approach will be a lot more cost effective and environmentally friendly.
In this issue you can find out all about our recent success at the National Learning Disability Awards, learn more about our latest organisation roadshows and discover how Dawn has been organising special training sessions for her staff to help them understand her dementia.
We also celebrate the great work going on in one of our inclusive People we Support Forums, learn how Rebekah met Scotland's First Minister, discover how Paula's bridal dress dream came true and much more…
Plus, the people we support are invited to take part in an exciting Art Competition to showcase their artistic skills in creating painting, drawing or montages.
We do hope you enjoy reading Issue 104 of Real News using the digital flipbook below or alternatively click here to download a PDF copy.
If you would like to sign up to our mailing list to receive future copies of Real News by email, please get in touch with our Marketing and Communications Manager Samantha Goodwin by email on samantha.goodwin@reallifeoptions.org, by phone on 01977 781801 or send her your stories by post to; Sharon McCutcheon Real Life Options, David Wandless House, A1 Business Park, Knottingley, WF11 0BU.