Real News Issue 103
Wednesday 3 July, 2019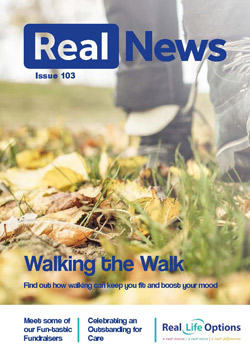 Welcome to Issue 103 of Real News. In this edition, you can meet some of our newest Board members and staff, find out about some of our fantastic fundraisers and learn how walking is good for your health, your mood and your social life. We celebrate Stephen's success on achieving Class Student of the Year and find out how Nadine manages to fit art, bowling, dancing and volunteering into her busy schedule.
There is plenty to keep you occupied in our Real Life Entertainment section and in this issue, our readers are invited to enter not just one, but two competitions – see pages 22 and 23 for more details.
If you'd like to receive a hard copy or electronic version of the magazine and/or be added to our mailing list for future issues, please contact editor Sharon McCutcheon. Alternatively, you can read this edition online in the digital flipbook below or alternatively click here to download a PDF copy.
We do hope you enjoy reading Issue 3 of Real News.  If you have any suggestions for improving our magazine, we would love to hear from you.
You can contact Sharon by email on sharon.mccutcheon@reallifeoptions.org, by phone on 01977 781385 or send her your stories by post to; Sharon McCutcheon Real Life Options, David Wandless House, A1 Business Park, Knottingley, WF11 0BU.