Real News Issue 102
Tuesday 2 July, 2019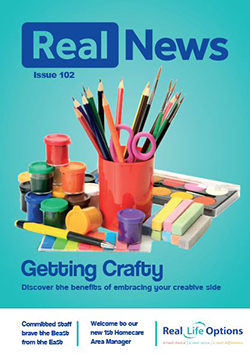 Check out our latest Real News magazine to find out what has been going on at the Real Life Options Group over the past few months…
This issue explores the benefits of embracing your creative side and celebrates the results of our recent Art and Crafts competition. It's also jam-packed with lots of other wonderful stories; you can find out more about how our committed staff team have been battling through the snow to deliver exceptional support and how the people we support have been contributing to their local communities through their jobs.
Plus, you can find out about our new interactive blackboard that has been turning heads in our Birkinstyle service and learn about our new 1st Homecare Area Manager, Sheilah Harvey.
You can read online in the digital flipbook underneath, or alternatively click here to download a PDF copy.
If you'd like to receive a hard copy of the magazine and/or be added to our mailing list for future issues please contact our new editor Sharon McCutcheon (as Samantha Goodwin is now on maternity leave).
You can contact Sharon by email on sharon.mccutcheon@reallifeoptions.org, by phone on 01977 781385 or send her your stories by post to; Sharon McCutcheon Real Life Options, David Wandless House, A1 Business Park, Knottingley, WF11 0BU.