Real News Issue 101
Friday 3 May, 2019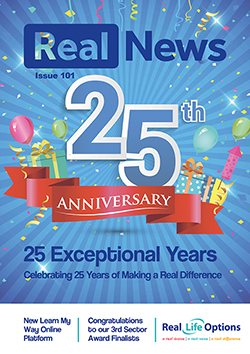 Check out our latest Real News magazine to find out what has been going on at the Real Life Options Group over the past few months…
This special 25th Anniversary issue celebrates our long heritage as a leading provider of care and support and reflects on the past 25 exceptional years.
You can read all about the 3rd Sector Care Awards at which our Darlington Road team were finalists for the Compassion Award.
Plus, you can find out more about the exciting new Learn My Way online learning platform and discover how the Real Life Options team has been inspiring the next generation to take up a career in social care.
You can read online in the digital flipbook underneath, or alternatively click here to download a PDF copy.
If you'd like to receive a hard copy of the magazine and/or be added to our mailing list for future issues please contact the editor Sam Goodwin on samantha.goodwin@reallifeoptions.org