RLO signs up to The Charter for Involvement
Wednesday 4 February, 2015
On 22nd January 2015, a special event was held in the Scottish Parliament to celebrate the publication of the Charter for Involvement.
The Charter for Involvement provides people supported by social care organisations with a clear voice on the types of support and outcomes people really want from their service providers and the wider community and how, through partnership, strategies for change can be made most effective. The Charter will make a momentous difference to people's lives through sign-up and commitment by social care Chief Executives throughout Scotland.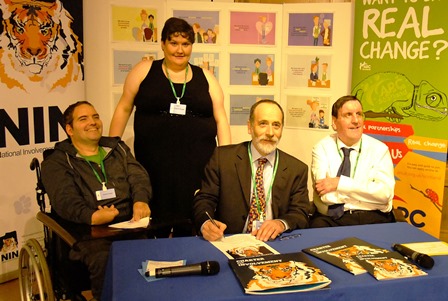 The Charter for Involvement has been written by The National Involvement Network (NIN), supported by ARC Scotland.
NIN is a network of people who receive support from social care organisations throughout Scotland. NIN has been meeting since 2007, providing people with the opportunity to get involved, to be heard, to make choices and share ideas – making a real difference to their lives by influencing the issues that matter most.
Alan MacKenzie, who is supported by St. Joseph's Services, said the Charter: "is our voice, saying what support we need and how we want to be involved."
Jamie Hepburn MSP, Minister for Sport, Health Improvement and Mental Health commented on how the Statements in the Charter equated with the principles of involvement and human rights in the Keys to Life, the Government's strategy for people with learning disabilities. He also commented on the match between the Charter and the core values of respect, independence and informed choice in the Government's policy of Self-directed Support.
John McDonald, Executive Director at RLO attended the event, signing the Charter for Real Life Options – see picture right. John said: "We are fully behind everything contained in the Charter. Our commitment to person centred support is well known and is at the centre of everything we do at RLO. We are delighted to put our full support behind NIN and their important work."
For information about the National Involvement Network, or the Charter for Involvement contact Paddy Carstairs, ARC Scotland Development Worker. Tel 0131 663 4444, paddy.carstairs@arcuk.org.uk