Royally Proud of Grow and Learn Roots Achievement
Friday 13 March, 2020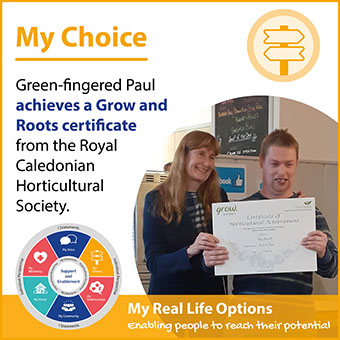 To say that Paul from Macduff has green fingers would be an understatement. Paul has spent the last twelve months taking part in a garden project achieving a Grow and Learn Roots course certificate from the Royal Caledonian Horticultural Society.
As part of the course, Paul completed a workbook to record his activities, learning and skills. This included the key aspects of horticulture such as planting, garden maintenance, growing fruit and vegetables, greenhouse work as well as passing a certificated course on the use of mowers and strimmers.
During the project, Paul had responsibility for looking after eight hens and was involved in all aspects of their care: feeding, egg collection, keeping the hen houses clean and ensuring that the hens were physically well.
Paul, pictured with Carol Baxter, a presenter of The Beechgrove Garden programme, is delighted with his achievement and looks forward to starting the second level course in Spring.
Team Coordinator Forbes Sutherland says, "Paul has worked really hard at getting his award and we are all understandably very proud of his achievements."