Scottish Advisory Board play key part in recruitment of new RLO Non-Exec Director
Thursday 10 September, 2015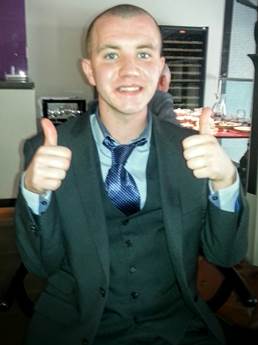 RLO's Scottish Advisory Board (SAB) is made up of people we support, their support workers and the Chair of RLO. Their job is to consider, advise and discuss the current and future development of RLO services in Scotland. SAB members have been at the centre of RLO's recent recruitment of a new Non-Exec Director to be based in Scotland. Over the next few days, we will feature some of the people involved in that process.
First of all, let's say hello to Mark, the newest member of SAB.
Mark, who is from Glasgow, has been supported by RLO since April 2015. Mark was recently drafted on to the Scottish Advisory Board to assist with the selection and interview of candidates for the new Executive Director position based in Scotland, which took place at the G&V Hotel in Edinburgh on 7th September. He was chosen for his enthusiasm and his keen eye for what makes a good member of staff.
Mark's been involved in a number of RLO interviews over recent weeks – he was active on the service user panel for the recent Area Manager interviews in Scotland and was excited to have the chance to recruit his own support worker. Mark said: "it's great to be involved in something important. I like meeting loads of new people and to know that what I think really matters."
He added: "when I was interviewing for my support worker, I wanted someone who likes football (Mark is a midfield general with local side, Partick Thistle Dynamo) and gardening and someone who likes to keep fit like me – and that's what I've got. Andy's been working with me for 2 weeks now and it couldn't be better. He's a football coach, which is perfect!"
Here's Mark (picture right), stylishly suited and booted, getting in 'the zone' for the afternoon interviews at the G&V.