Sharing Hope And Positivity With Rainbow Art
Friday 27 March, 2020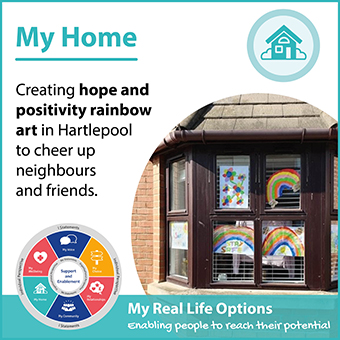 Despite everything that's going on around us, some of our lovely people in Hartlepool have been busy keeping their spirits up and putting a smile on their neighbours' faces by putting their beautiful artwork on display.
People across the UK are creating rainbows and displaying these in their windows to represent hope and positivity whilst the nation is dealing with the Covid19 virus.
Next time you go out on your daily exercise, look out for the rainbows near where you live. Or better still, why not create your own rainbow, pop it inside your window and share your hope and positivity with those around you?
We'd love to create a massive 'Positivity' montage poster of all your rainbow art so if you are a person we support, please send a photo of your beautiful pictures to sharon.mccutcheon@reallifeoptions.org. Don't forget to include your name so that you get a mention.