Special Olympics – Summer Games 2017 & Sports Taster Day
Wednesday 22 February, 2017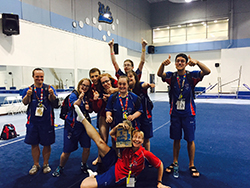 The Special Olympics National Summer Games is coming to Sheffield in August 2017!
The 10th Special Olympics will take place across a number of exciting sporting venues in Sheffield between 7th – 12th August 2017. Around 2,600 athletes with intellectual disabilities of all ages and abilities will come together from across the UK to compete in 19 sports.
A spectacular Olympic-style Opening Ceremony will kick off the event on Tuesday 8th August, 5pm – 9.30pm at Brammal Lane Sheffield United FC stadium. And the best thing about it? It's FREE to attend!
You can turn up to watch a variety of sports throughout the week – note you may need to get a (free) ticket for some venues that have limited capacity.
Keep an eye on the website for sport schedules coming soon: www.sheffield2017.org.uk.
Volunteering at the Special Olympics
If you're interested in volunteering to help out at the Special Olympics, which would be fantastic, you can register as a volunteer online at www.sheffield2017.org.uk/volunteers. The deadline is 30th April 2017.
People with a learning disability don't need to sign up for the full week (although you would have to commit to the full week if you are a staff volunteer and not supporting someone).
For more information you can download the poster by clicking here.
Sport Taster Day in Sheffield
For any people we support who fancy giving something new a go, there is a Sports Taster Day on Sunday 26th March, 9.30 – 5pm at the English Institute of Sport, Sheffield, S9 5DA.
Meet coaches and clubs in athletics, basketball, boccia, cricket, football, judo, table tennis and tennis.
For more information on the Sports Taster day you can download the poster by clicking here.