Swadlincote Supported Living Scheme Goes Live
Monday 6 March, 2023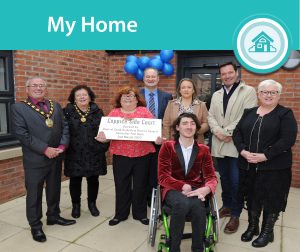 Much needed specialised supported living development officially launched for adults with disabilities in Swadlincote.
Residents have been welcomed into a new specialised supported living development in Swadlincote, Derbyshire in an official opening ceremony.
The development comprises eighteen apartments at the site on Coppice Side in Swadlincote that benefit from an array of technical solutions and large open spaces to enable all tenants to live as independently as possible without compromising care.
The scheme, named Coppiceside Court, was developed by specialised supported living developer HBV Group in partnership with care provider Real Life Options, registered provider of social housing Inclusion Housing CIC, and Derbyshire County Council. Construction was completed by Triton Construction Limited.
HBV Group oversaw the design of the scheme with Real Life Options and Inclusion Housing which is designed to help combat the cost of living for the residents by delivering dwellings that are extremely economical to run, embracing new technologies throughout.
Councillor Kevin Richards, Leader of South Derbyshire District Council, said:
"It is fantastic to see the results of this new development here in the heart of the community. It has been built as it will enable local adults who need a little extra care and support to live their lives more independently.
Councillor Paul Dunn, Chair of South Derbyshire District Council, said:
"We are delighted to officially launch this development here in Swadlincote. Developments like these are much needed in society to deliver welcoming and inclusive living spaces for everyone. This is a remarkable addition to our local community and I'm delighted that the apartments and the assistive technology within them creates the opportunity for people with various kinds of disabilities to live a more independent life."
David Sargent, Chief Executive of Real Life Options, said:
"This development is a brilliant example of what can be achieved through innovative partnership and we are very proud to be a part of it and bring our award-winning care to this scheme in Swadlincote. Everyone involved recognises the need for specialised supported living accommodation for the most vulnerable people in our society.
"As well as providing a fantastic place to live this new development also creates job opportunities as we expand our team here at the site and others across Derbyshire."
Neil MacKrell, Construction Director at HBV Group, said:
"It is always wonderful to welcome new tenants and hand them the keys to their very own front door, often for the first time in their lives. This project has been a true partnership with Real Life Options and Inclusion Housing CIC as many of the tenants were identified early in the process which enabled us to welcome them to view the scheme during construction and give us input in to the finished development.
"We look forward to delivering more schemes like this in 2023. We'd like to thank everyone in the local community who has helped us to deliver this development."
HBV Group works in partnership with local adult social care commissioners, care providers and registered providers of social housing, and it has delivered more than 60 specialised supported living developments across England and Scotland
The development value was in excess of £3.5m and built by Triton Construction. Architectural services were delivered by Calderpeel Architects, Engineering by DW LLP, services design by Environmental Consulting Engineers and the adaptive technology design and solutions by Adaptive Technology (Europe) Limited.