Swapping Singing for Secateurs
Monday 20 July, 2020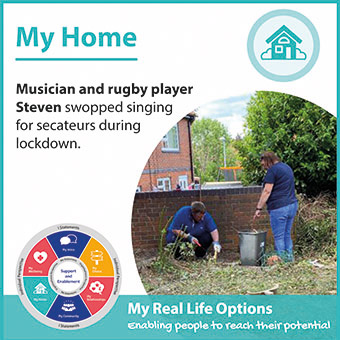 Steven from Leeds enjoys nothing more than socialising with people. An enthusiastic rugby player and keen musician, Steven could often be found busking and entertaining passers-by with his singing and guitar playing in the city centre prior to the Covid-19 pandemic. Due to underlying health conditions, Steven has been following government guidelines to shield at home.
Not one to be dispirited by the lockdown, Steven has been busy transforming his mum's garden with the aid of Real Life Options' Support Worker April. Their efforts have converted an unused overgrown space into an area where Steven and his family can relax and enjoy being outdoors. Delighted with the results, the hard working team celebrated the garden makeover with a socially distanced barbeque.
"Steven is a very sociable young man. We are so proud of how he has handled being at home and what he has achieved over the lockdown period." Joanne Stringer, Service Manager.