The first Christmas at our Swadlincote Supported Living Service
Friday 30 December, 2022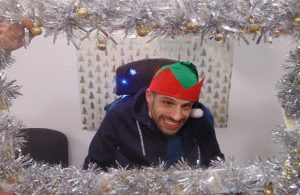 Christmas was in full swing last week at our new supported living services in Swadlincote as two Christmas trees were donated to tenants by the scheme's developer, HBV Villages and tenants, along with their families enjoyed a 'Mince Pie Evening'.
We would like to say a big thank you to Jonathan Wrigley, Managing Director of HBV Villages who kindly donated a 6 foot tree for inside, and a 3 meter tree for outside, both from his very own Christmas tree farm. The trees were delivered and fitted by Oliver Carroll (Development Director HBV) and Neil MacKrell (Construction Director HBV) and spread lots of Christmas joy.
Amanda Leary, (Registered Locality Manager in Derbyshire) had big plans for the trees and said, "Everyone's so happy and excited, the outdoor tree looks amazing with its decor and lights". On 22nd December, residents, their families, staff, and everyone involved in the development of the Swadlincote services enjoyed a 'Mince Pie Evening'. The Mince Pie Evening was the services very first event and gave the new residents the opportunity to host carols around the tree, whilst enjoying hot chocolate and mince pies. The Swadlincote Round Table called round to the mine pie evening, accompanied by Santa of course! The team in Derbyshire were determined to make this Christmas one to remember for the people they support in their new homes and what better way than to have a Christmas get together. Everyone looked like they had an amazing time, with Amanda saying, "the joy and happiness on people's faces was immeasurable."
One of the Christmas trees was a "Promise Tree" where staff, family, friends, and residents could take a gift tag and write a pledge to support the Swadlincote service throughout the new year. Whether it's helping with DIY projects, volunteering hours, or fundraising, each pledge will make a difference to the people we support. We are looking forward to seeing all of the wonderful pledges and the impact they will have on the people we support.