The Great Real Life Options Bake Off!
Friday 2 October, 2015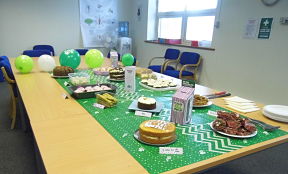 Last Friday 25th September saw Real Life Options host their very own Bake Off in aid of Macmillan Cancer Support. Part of the World's Biggest Coffee Morning, the event was organised by Karen Pinder in the Finance team and saw staff from across the organisation don their aprons and put their baking skills to the test, resulting in a glorious assortment of cakes and savoury treats.
Azra Kirkby, Deputy Chief Executive, was our very own Mary Berry judge and awarded prestigious Star Baker accolades to Lauren Philips for her scrumptious forest gateau and to Karen Pinder for her delicious cupcakes.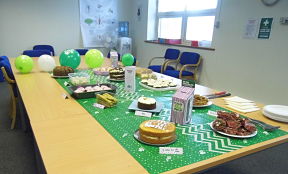 Natalie Crowther and Jenny Johnson were the lucky winners of the 'Guess the Spots' on the cake game and happily walked away with a box of chocolates and bottle of wine for their excellent guesswork.
Overall the event was a great success, raising £153 for Macmillan Cancer Support, as well as providing a great excuse for an afternoon nibble!