David Is Happy With His Jab
Wednesday 10 February, 2021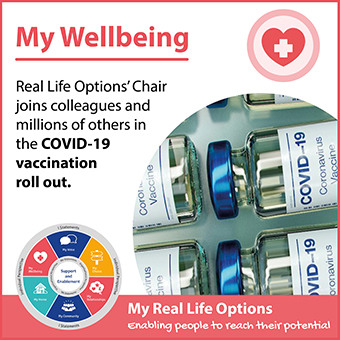 Real Life Options' Trustee and Chair David Wilkin was delighted last week when he was invited to have his COVID-19 vaccination. He was able to attend the clinic at short notice in response to a call which meant that a small number of Pfizer vaccines with a short expiry date did not got to waste.
David's local clinic was extremely well organised with social distancing measures and full PPE in place. Ahead of the vaccination, David was questioned about any allergies and any prescribed medication to ensure that he was able to receive the injection. The process was over within minutes and after a short rest, he was allowed to drive home. Other than a sore arm, David has not experienced any other side effects however he was made aware that this can vary from person to person.
David joins over 60% of our staff who are eligible and who have had vaccinations, with more waiting for their appointments to come through.
"It was fantastic to see people chatting away so enthusiastically about receiving the vaccine; some who have been self-isolating for a long time. The process was highly organised and any reservations that I might have had were soon put to rest. A massive thank you to the NHS and those volunteers who are playing their part in the roll out process." David Wilkin.