Truly Special: Celebrating the Special Olympics 2017
Monday 20 November, 2017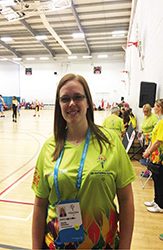 This year our Service Manager, Amanda Richardson, was on hand at the 10th Special Olympics GB National Games in Sheffield, assuring everything ran smoothly. This was an exciting and lively event with 20 different sports and an outstanding 2,600 athletes.
While Coordinating the event, Amanda oversaw 21 basketball teams and 6 netball games with over 450 spectators.
She described how "there was a really fantastic atmosphere at the National Games. Everyone was really friendly and my team got a lot of praise from the coaches who said it was all very organised and looked great"
Despite claiming her role as Volunteer Coordinator as "challenging", Amanda affirmed that "everything was worth it in the end."
She also valued the diversity of her co-workers backgrounds, all bringing unique skills with the same aim of celebrating people's sporting achievements.
For Amanda, the most important thing was "to give something back and raise awareness about learning disabilities," which she claims is something she feels really passionate about.
"I was very committed to ensuring all the volunteers had the best experience so hopefully they will volunteer again and may even consider working in social care."
Well done Amanda for all your hard work!