Up, up and away!
Friday 11 October, 2013
On 16th August, daredevil Anthony Powell from King Street, Pinxton braved an exciting hot air balloon ride over Derbyshire. The balloon took flight from The Hurt Arms in Ambergate. Anthony helped inflate the balloon, along with King Street support worker Ian Smith and other riders, as they embarked on their memorable journey.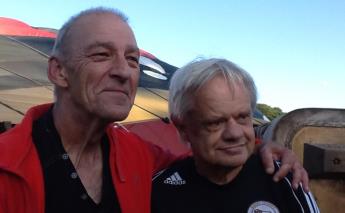 Anthony thoroughly enjoyed the experience, in fact he was elated! They got a dramatic bird's eye view of the Derbyshire landscape. Afterwards, Anthony was keen to show the pictures he took from the basket of the balloon to all his staff and family and has been over the moon since.
Members of Anthony's family, staff from King Street and Hilltop, Murray Wainwright and Clive Bennett from Hilltop and Colin Toplis and Averil Whitticase from Anthony's home at King Street all went to watch Anthony on his balloon flight. They can't wait to find out about Anthony's next great project!
Jane Jones, Service Manager, also went to watch and was so pleased when they landed safely!!