Useful and Kind at Westminster
Saturday 4 May, 2019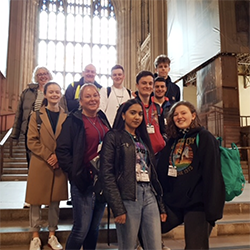 At Real Life Options, we understand the importance of mentoring when supporting young people to develop and prepare for the future. Real Life Options, represented by Regional Head of Operations Toni Fyfe, is currently working in partnership with Useful and Kind Unlimited; an organisation that coaches young people to solve global problems in a human, sustainable and mindful way. At last year's summer school in York, the group of 16-18 year olds learnt about mindful leadership, culminating in a food kitchen prepared by the students with food donated by local businesses.
More recently, the group visited the Houses of Parliament to tour the building, learning about its history and customs, and taking part in a mock voting session. Attendees were expecting to listen to some of the House speakers but unfortunately due to a long-standing unresolved issue (we'll leave you to guess what this is), this part of the tour was cancelled. Instead, the group were introduced to the select committee process and listened to several debates including one on drone fly zones. One student commented, "This is a really special experience and has given me a unique insight into how Parliament works."
The visit to Westminster culminated in a presentation from Jim Blakemore of Bikeworks, a social enterprise that aims to make a positive difference to the lives of people from disadvantaged backgrounds. Bikeworks' Ability Clubs are an exemplar for other social enterprise groups fully embracing inclusivity.
Click on the links provided to find out more about Useful and Kind Unlimited andBikeworks.