Volunteering Matters at Real Life Options #VolunteersWeek
Friday 5 June, 2020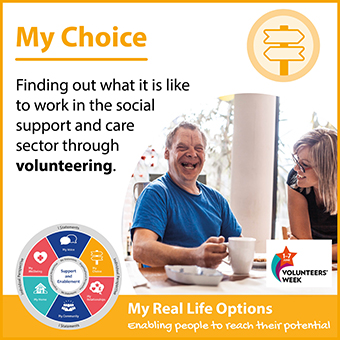 People that work in the support and care sector come from all walks of life.  Some choose it as a career option when leaving school whilst others opt to become a support worker later in life.  For the many hundreds working at Real Life Options, it is a highly rewarding role that offers a great working environment with a fantastic team of people.
For those who are unsure if it is for them, volunteering is a great way to find out what it is like to work in the social care sector. Marie, a student from Falkirk was keen to gain experience and spent four months as a Real Life Volunteer. Working alongside support staff in a care home setting, Marie enjoyed getting to know the people who live there; helping with some of the daily tasks and getting involved in one to one activities.  Marie, who would love to work in the sector once her studies are completed, says of her volunteering experience:
"Before I started my placement, I was very nervous about walking into an unfamiliar environment.  Staff helped me feel at ease and were all so friendly.  My experience has definitely been a positive one and has really boosted my confidence. It showed me that there are good carers out there that can deliver good practice. I can't wait to return soon to volunteer." 
If you would like to find out more about volunteering roles at Real Life Options, download our Can You Make a Real Difference Leaflet.