Volunteers Week: Kenny and Peter
Tuesday 6 June, 2023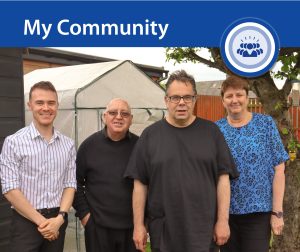 1st-7th June marks Volunteers Week, a week where organisations celebrate the contribution millions of people make across the UK through volunteering in their communities.
Real Life Options are proud to have over 200 dedicated volunteers across England and Scotland, who share their time and skills to help us champion the everyday choices of the people we support.
As part of volunteers week we spoke to Peter, who we support in Scotland and Kenny, one of our Real Life Volunteers who works with Peter. As one of our Community Support Volunteers, Kenny's role is varied and compliments the work carried out by Peter's support staff.
At Real Life Options, we believe everyone should feel valued and have a sense that they belong in their community. People are encouraged to try new experiences which enable greater independence. As a Community Support Volunteer, Kenny is committed to supporting Peter to get out in the community, doing things he enjoys. Kenny say's no two days are the same, "Peter decides what he'd like to do on the day, it could be anything from crazy golf, to visiting museums. We recently did a sightseeing bus tour in Edinburgh", with Peter saying, "It was fantastic."
In addition to their community activities, the pair have been working hard in Peter's garden in preparation for summer. As well as planting and tending to the array of colourful flowers, the two built a greenhouse which will be home to a range of plants and delicious vegetables!
Kenny says, "As well as making a difference to people's lives, since starting my work as a Community Support Volunteer, my confidence has really grown."
Are you interested in making a real difference to people's lives? We have a variety of volunteering roles available across England and Scotland. As a Real Life Volunteer, you'll receive a first class induction and on-going training whilst gaining new skills and meeting amazing people. To find out more, please email reallifevolunteers@reallifeoptions.org