Walking the West Highland Way
Wednesday 13 June, 2018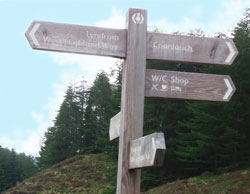 The West Highland Way stretches 96 miles from Milngavie, north of Glasgow to Fort William near Ben Nevis, taking in a huge variety of scenery along the way, from countryside parks to loch-shores and open moorlands to steep mountains. It is certainly not a route for the faint-hearted!
Scott from Fife, together with Real Life Options staff Rosie McArthur and John Hartley embarked on a journey to complete the walk over five days and four nights, raising funds through sponsorship for a sensory garden at Scott's home, which he shares with three other people.
For some people, the world can be a scary place so to embark on a challenge of this nature takes true grit and determination.
Scott, a regular walker, was supported in building up his stamina in the weeks leading up to the challenge, getting used to his new walking boots and buying suitable clothing.
Along route, Scott, Rosie and John were fortified with hearty breakfasts, energy-filled packed lunches (Scott particularly likes Mars Bars) and appetising evening meals. Overnight accommodation varied, from a bunkhouse in Balmaha to a wigwam in Inverarnan; all new experiences for Scott.
The paths can be challenging at the best of times with some very steep and rocky sections but Scott, who is partially-sighted, didn't let this deter him; covering on average 19 miles each day.
Along the route, Scott diligently collected his West Highland Way 'passport' stamps, culminating with a Certificate of Achievement on completion and a celebratory dinner and pint of coke. So far, over £600 has been raised through kind donations and sponsorship with more pledges still being made.
"We could see how much Scott enjoyed walking the West Highland Way by the contentment on his face and by how relaxed he was throughout the whole adventure. We are so very proud of Scott and what he has achieved," says Rosie.
If you are in awe of his achievement and would like to applaud Scott on completing the West Highland Way walk, you can still donate and help turn the sensory garden into a reality. Just get in touch with Sharon McCutcheon at sharon.mccutcheon@reallifeoptions.co.uk to find out more.