Welcome Break Donation
Thursday 5 January, 2023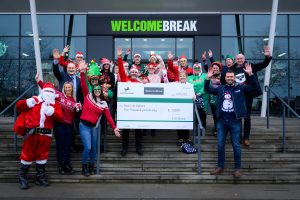 We wish to congratulate the Welcome Break team for their amazing fundraising efforts and show our appreciation for their generous donation of £5,000 to Real Life Options for the second year in a row.
Our Chief Executive Officer David Sargent was delighted to visit Welcome Break at Sarn Park Services at Bridgend and gratefully receive the huge cheque. Whilst on his trip he outlined our intentions to put the money towards hosting a 'My Voice' mini conference.
The all-inclusive event will bring together people we support, their families and guardians and our operational teams to share their lived experiences. It will be a great platform to further enable the people we support to have their voices heard and will be invaluable in educating and shaping our person-centred approach. Key speakers will be invited to provide personal insights about the highs and lows, challenges, and the rewards of living with a loved one who has special needs. We look forward to inviting representatives from Welcome Break to the event to see first-hand the impact this money will have and why we feel an event of this nature is so important to our organisation and the impact that their money will have.
Extended thanks go to I-Tel Group for fostering the partnership between Real Life Options and Welcome Break as we continue to discuss further mutually beneficial opportunities. Work experience placements is an avenue that is currently being explored which could help raise confidence and provide a great sense of purpose for the people we support with learning disabilities and autism. We look forward to developing such initiatives and working together to develop the partnership further over 2023.