When Hannah met the Duchess
Friday 11 September, 2015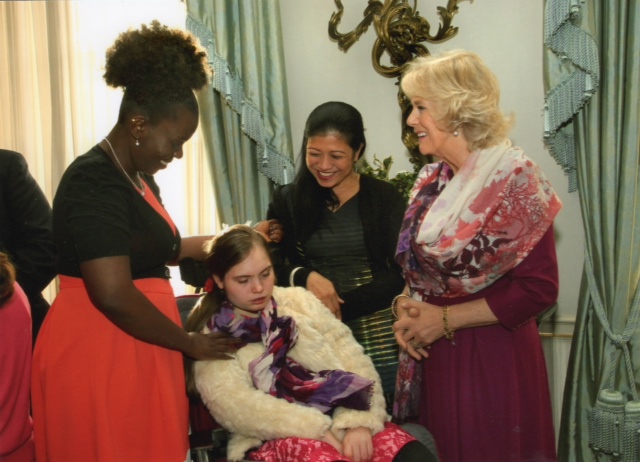 Hannah from Buckinghamshire is supported by Real Life Options. Hannah recently had the unique opportunity to attend a party at Clarence House, hosted by Camilla, Duchess of Cornwall. As a patron of Helen and Douglas House, the Duchess throws annual parties for groups of young people supported by the charity.
The Duchess certainly doesn't stand on ceremony – reports are that she was up and about serving her guests bangers and mash in celebration of the work of the charity – which provides respite, support and care to children and young adults from Berkshire, Buckinghamshire, Gloucestershire, Northamptonshire, Oxfordshire, Warwickshire, Wiltshire, and parts of London.
The picture shows Hannah, who was supported to attend the event by Real life Options' Team Co-ordinator Sibongile Zimani and Dorothy Cioco from our Aylesbury service, being introduced to the Duchess.
When her guests finished their meal, the Duchess said: "This is one of my favourite things to do and seeing your faces as the door opens is magical. Helen and Douglas House is a wonderful, uplifting place. Everyone should visit it."