You're a blooming hero George
Tuesday 31 March, 2015
George Rudolph, one of our support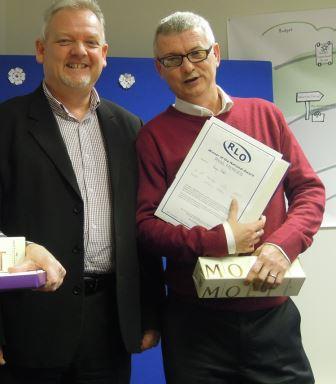 workers took the lead on an allotment project with his local community – an initiative which has brought so much genuine enjoyment to so many people. George gives up his own time and supplies his own tools to make sure the people we support get the best possible experience out of their involvement.
George has also been busy showing other staff how to support people to set up similar projects around the country – and as a result, other gardening projects have not only seeded, but they've germinated and are now ready to bloom during the heady days of spring and summer! George's excellent work and dedication helped people we support to take up new interests, make friends and become a more active within their local community.
George's work has so impressed his colleagues and management that he was announce as the winner of Real Heroes, which recognises outstanding achievements by people we support, friends and families and our colleagues. George is seen here accepting his award from RLO's Chair, David Wilkin.