Hope House Community Garden Project
Monday 14 September, 2020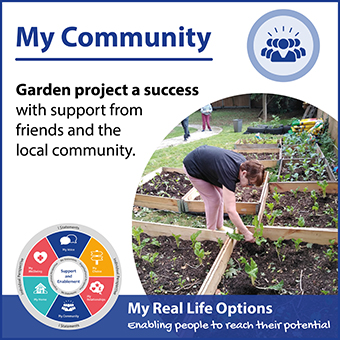 Friends and neighbours in Oxford are so proud of their community garden project which has seen hard work and dedication result in healthy and bountiful fresh produce. At a resident's forum earlier this year, the group decided to make the most of the beautiful summer weather and use part of their large garden to grow fruit and vegetables, with the intention that any surplus is donated to local homeless charities and foodbanks.
A £600 grant from the Real Life Options Community Connections Fund enabled the friends with their staff team's support to purchase raised garden beds, compost, tools and seeds. Further support came from local action group Harvest@Home, in the form of subsidised plants and machinery.
Everyone who lives at Hope House has been fully involved throughout the garden project from planting seedlings to watering and harvesting the produce. The friends also learnt how to create sustainable compost from food and garden waste. They are keen to see the project continue to flourish and look forward to the support of two volunteers who will join them in the next few weeks.
Nen Pillay, Regional Operations Manager comments, "The garden project is real evidence that by maximising opportunities for people to have choice and control in their everyday lives, our approach to support and enablement does work. The friends have not only been happy and fulfilled during challenging times, their friendships are stronger than ever. Hats off to the staff team who have been very supportive of this project and for their help in making it a resounding success."
Vivien Simon, Director of Operations England adds, "I am thrilled to see how the people we support and our staff team have really got behind the project. It has been such an empowering experience for everyone involved and highlights in difficult times how simple initiatives can support the mental health and general wellbeing of individuals. I would like to thank our staff and our community neighbours for their support and look forward to seeing the garden project develop and grow."