Launch of the Real Heroes Awards
Wednesday 15 January, 2020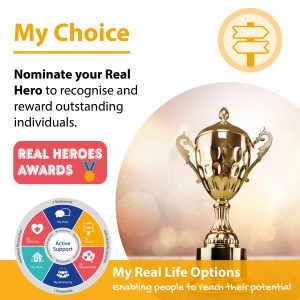 We are delighted to announce the official launch for the Real Heroes Awards, which recognise and reward outstanding individuals across the organisation. The Real Heroes Awards should help to encourage staff recognition and also celebrate the achievements of the people we support.
There will be monthly Real Hero prizes awarded for both staff and the people we support and we welcome nominations from everybody.
To nominate someone for a Real Hero award, please simply click here to download a short form and email to Samantha Goodwin: samantha.goodwin@reallifeoptions.org Please state in your email which city your nominee lives or works in, so your nomination can be included in the relevant Area awards.
All nominations should provide an answer to 2 basic questions:
Why are they a Real Hero? e.g. What are they doing to go above and beyond what is expected of them?
What difference have they made? e.g. to the people we support, staff team, the organisation or the local community.
We look forward to hearing all about the fantastic Real Heroes over the course of this year.